NipeX MILESTONES
Nigerian Petroleum Exchange (NipeX) went Live on 20th December, 2005
Commenced operations in May 2006 after fully setting up an office at No 30, Oyinkan Abayomi Drive, Ikoyi, Lagos
The NipeX Steering Committee was inaugurated on 8th  December, 2006 by NNPC Group Managing Director (GMD)
The NipeX Policy Statement was signed by the GMD on 7th June, 2007.
NipeX MoU with NNPC & Operators was executed on 10th December, 2009
Discontinuance of manual progression of contracts directive took effect from 1st January, 2010
New NAPIMS/NCD/Operators Contracting Process  was signed by Steering Committee on 19th March, 2010
Steering Committee approved five new third party products (advert placement, tender processing, supplier verification, supplier sourcing & server hosting) for NipeX in Dec. 2013
NipeX developed vendor management software for all NNPC contracts (N25million and below) in July 2014
NipeX developed another functionality which is called Forward Auction and was used by NNPC in August 2014
NipeX commenced registration/pre-qualification of NNPC Vendors for contracts above N25million in September 2014
NipeX London Data Centre was commissioned in June  2015
A more user-friendly and appealing NipeX website (www.nipex-ng.com) was launched in October 2015
New NipeX emarketplace platform SAP SRM 7.0 went live in November 2015 and commercial use commenced January 2016 with NPDC tenders.
Timely Steering Committee approval of 2017 budget in January 2017.
Automation of Suppliers' Product code addition/deletion requests.
Automation of Suppliers' Annual Subscription Renewal Requests.
Achieved two-day turn around time for addressing Renewal Requests.
Developed a live end-to-end Demo on usage of SAP SRM 7.0 for Buyers, Approvers and Suppliers
Mapped new NJQS product codes with 2017 DPR permits for ease of Supplier registration and pre-qualification
Developed a Helpdesk software called HEAT which facilitates faster issues resolution and increases customer satisfaction
Commenced full usage of harmonized NJQS Product Code Booklet
NipeX: EXCELLING EVEN BEYOND OUR BORDERS
The humble, yet giant strides being made by NipeX have not gone unnoticed in the African Continent.
Just recently, a high-powered Ugandan Delegation led by the Director in charge of the Directorate of Petroleum, Ministry of Energy and Mineral Development to engage NipeX with the intention of learning about our processes.
This is in consonance with the letter and spirit of Pan-Africanism as originally espoused by the founding fathers of the OAU (Organization for African Unity).
It is further testament to the long held belief that Africa's salvation lies in Africa and with Africans. We are so proud to be part of the realization.
 UGANDAN DELEGATES WITH SOME NipeX STAFF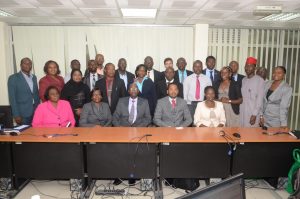 NipeX Celebrates its 10th Anniversary
NipeX celebrated its 10th Anniversary on August 12, 2016 at Oriental Hotel, Lagos. Some past GMDs, GEDs and GMs braced this remarkable event and other major stakeholders.
 PAST & PRESENT NipeX GENERAL MANAGERS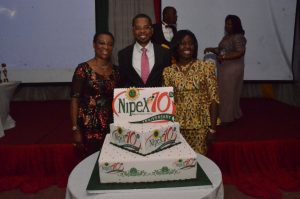 SOME PAST NNPC GMDs, GEDs & GMs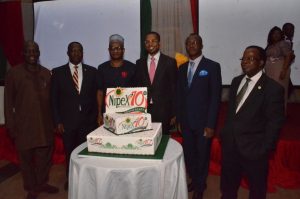 NipeX 10th ANNIVERSARY AWARDS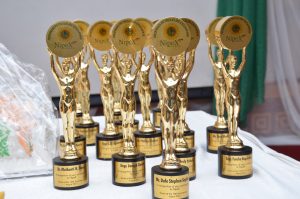 SOME NipeX MAJOR STAKEHOLDERS & GM, NipeX